Electronic Municipal Market Access (EMMA)   -  Office of Public Accountability Financial Audits  -  Consolidated Revenue and Expenditure Report
Guam Bond Information
Per Guam Code Annotated (GCA) Title 12, Section 50103(k), the Guam Economic Development Authority ("GEDA") serves as the central financial manager and consultant for the Government of Guam ("Government") and those agencies or instrumentalities of the Government requiring financial guidance and assistance.
Such technical assistance by GEDA includes, but is not limited to, obtaining funds through bonds or other obligations, structuring such bond issuances, preparation and dissemination of financial and investment information, including bond prospectuses, development of interest among investment bankers and bond brokers, maintenance of relationships with bond rating agencies and brokerage houses and, generally, acting as the centralized and exclusive financial planner and investment banker for all the agencies and instrumentality's of the Government.
---
INTRODUCTION TO GUAM
212 square miles, 3,800 miles west‐southwest of Honolulu, Hawaii, 1,550 miles South‐southeast of Tokyo, Japan and 1,600 miles east of Manila, Philippines
Unincorporated territory of the United States
Relationship with United States defined by Organic Act of 1950
Guam citizens are U.S. citizens
Population of 159,358 as of 2010 Census
Sovereign entity generally subject to U.S. law (sovereign immunity waived for these bonds)
Within jurisdiction of U.S. 9th Circuit Court of Appeals and U.S. Supreme Court
GovGuam is only taxing authority on the island (i.e., no cities, counties, school districts, etc.)
Governor elected at large every 4 years; unicameral legislature (15‐member Senate, elected at large) elected every 2 years, including with gubernatorial elections
One non‐voting representative to U.S. House of Representatives
---
CURRENT RATINGS AND OUTSTANDING DEBT
Guam's Ratings Have Improved Since 2011.
---
General Fund Obligations
Guam's centralized consolidated debt issuance is reflected in overall debt levels.
Debt profile reflects prudent amortization with no back loading of obligations (essentially level debt profile)
GovGuam will continue to prudently manage its debt obligations in order to ensure continued improvement in its financial position
Responsible debt management and oversight managed through GEDA
In 2015, GovGuam achieved $45 million gross savings ($28 million PV) from refunding the 2007A & 2009A G.O. Bonds with new BPT bonds

Matched maturity refunding, no extension of debt service

Most recently, GovGuam refunded its Section 30 debt for $20 million gross savings ($17.6 million PV)

Matched maturity refunding, no extension of debt service
---
Government of Guam Debt Statement as of November 14, 2019
Debt obligations paid from General Fund sources include General Obligation bonds, Limited Obligation (Section 30) bonds, Business Privilege Tax bonds, COPs and various loans.
---
Capital Plan and Projected Financing Activity
Capital Plan includes a limited number of potential new money projects.
---
Debt per Capita (FY 2016)
Based on FY 2016 data, Guam ranks among the lowest combined state and local government debt burdens
Guam does not pay federal income taxes to the U.S. Treasury to support the federal debt and has no overlapping tax authorities underneath it (e.g., school districts, cities and counties)
---
PROMESA
On June 30, 2016, the President signed into law the Puerto Rico Oversight, Management, and Economic Stability Act ("PROMESA")
PROMESA establishes a financial oversight and management board for Puerto Rico

only

PROMESA defines a "

territory

" as (A) Puerto Rico, (B) Guam, (C) American Samoa, (D) the Commonwealth of the Northern Mariana Islands, and (E) the United States Virgin Islands
The stated purpose of an oversight board is to "provide a method for a covered territory to achieve fiscal responsibility and access to the capital markets" (at Present, only Puerto Rico is a covered territory)
An earlier version of the Congressional bill that became PROMESA included text providing that, except with respect to Puerto Rico, an oversight board "for a territory is established in accordance with this section only if the Legislature of the territory adopts a resolution signed by the Governor requesting the establishment"

That provision

is not

included in the final enacted version of PROMESA
Action by Congress and the President would be required before an oversight board could be established for any territory other than Puerto Rico.
---
ECONOMY
Guam's Economy Continues on an Upward Path
Guam's economy performed well over the past 12 consecutive years and is poised for additional growth.
Economic Overview
Guam's GDP measured $5.9 billion in 2018

GDP has grown over 23% since 2009
Private fixed investment has increased 10% since 2009

Unemployment rate at 3.6% as of September 2019, the latest date for which information is available
Construction industry increased by 260 jobs compared to the previous year
As of March 2019, both public and private sector employment has increased from 63,750 in 2015 to 65,220 in 2019, a 2.3% growth
Diversification and growth in the tourism markets has resulted from successful trade missions to China, South Korea, Taiwan and other destinations
---
Guam's Economy Continues to Grow
Guam's economy has shown steady growth over the past decade and its economy continues to show signs of additional expansion.
Tourism Highlights
FY2019 closed as the best year in Guam's tourism history with 1.63 million visitors
CY2018 closed as the best year in Guam's tourism history with 1.55 million visitors
Guam welcomed 157,479 visitors in January 2020, a 6.8% increase from the previous year
GovGuam and the Guam Visitors Bureau continue to pursue the strategic vision laid out in the Guam Tourism 2020 Plan of 1,600 hotel rooms
Scheduling of World Health Organization, Festival of Pacific Arts, and Trans-Pacific Partnership meetings reflect growing recognition of Guam as a destination for conferences, seminars and meetings
Increased access to Chinese visitor market (10‐year, multiuse visa)
Increased marketing efforts at Asian trade missions
Continued increases in Korean travelers

South Korean air carriers provide regularly scheduled air service to Guam and account for 48.7% of Guam's visitors in FY2019

Increase in number of hotel rooms and hotel development
expected
Construction and Infrastructure Initiatives
Tsubaki Tower, a $164 million, 340-room hotel in Tumon with est. completion in April 2020.
Preliminary numbers indicate that for FY2019, construction permits reached $362 million.

$9.9 million, 50 housing units in six two story apartment buildings.
$10.4 million for construction of a new Chapter School, Ilearn Academy.
$7.2 million, Amantes Residence, 420 condominium units, adjacent to Two Lovers Point.
$7 million, 33 new housing project in the southern part of Guam.
$50 million, Guam International Hotel, 11 story 246 room
$3 million, Yigo Family Plaza with shopping mall

$79.4 million in water system reservoir improvements and $20.9 million in water distribution system pipe replacements and upgrades as part of GWA's $128.4 million CIP projects. The projects are expected to be complete between 2019 and 2020.
The $117.8 million Airport project includes modifications to the terminal and the construction of a third floor concourse. Construction is expected to be complete around July 2020.
Military Buildup
Signing of Record of Decision (ROD) in late August 2015 is expected to trigger a decade‐long run of military construction projects
FY2019 National Defense Authorization Act (NDAA), signed into law in August 2018, authorizing $377 million for Guam.
---
Economic Development Projects
Recently completed projects demonstrate diverse economic development and provide a solid foundation for sustained economic growth.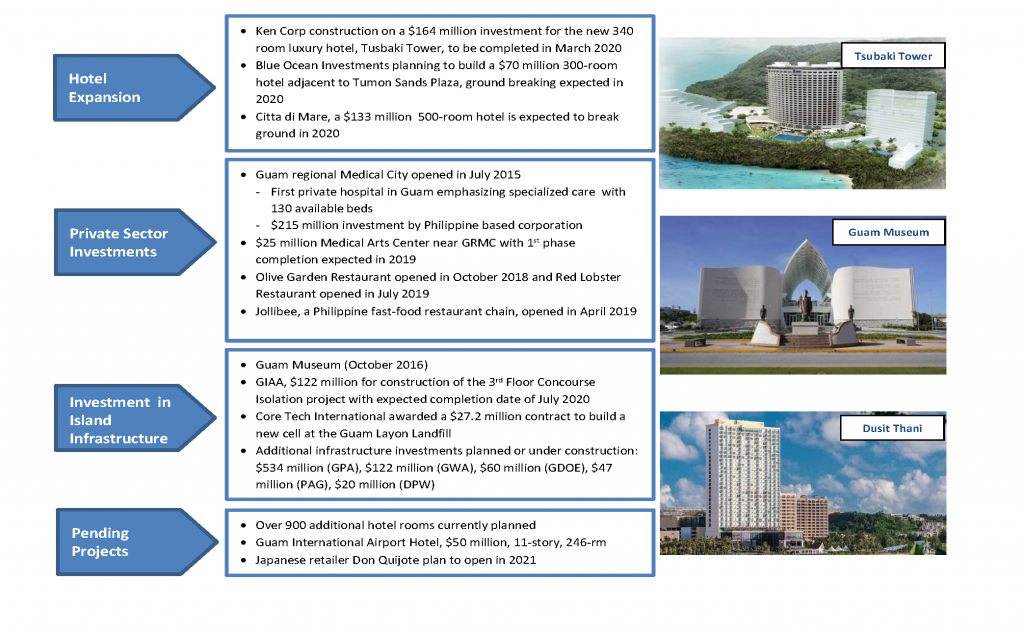 ---
Growth in Tourism Market
Visitor arrivals have grown 20% and Guam's tourism base continues to expand and diversify.
---
Update on Marine Relocation & DoD Projects
The signing of the Record of Decision (ROD) in August 2015 for the Marine relocation began the process for significant additional military investment in Guam.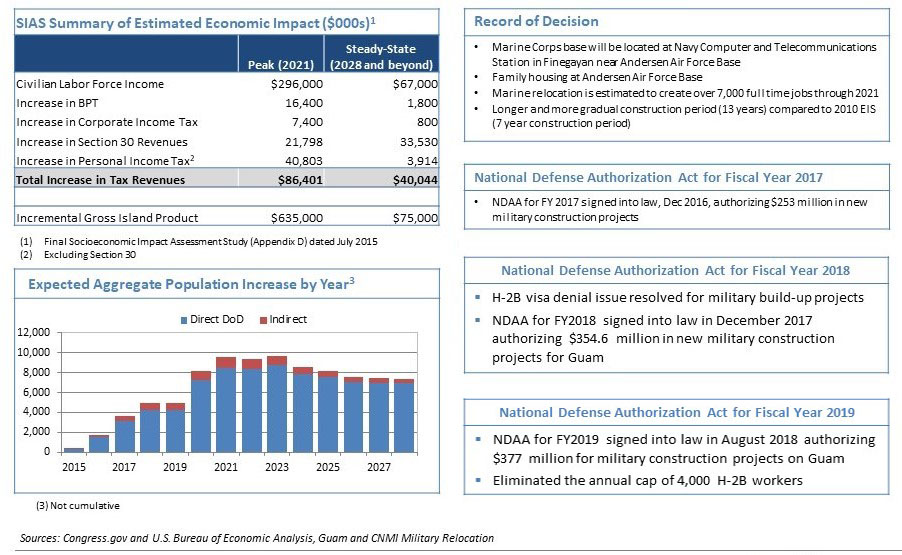 ---
GENERAL FUND
Guam's FY 2018 Financials Show an Improving Fiscal Outlook
Government of Guam reduced spending levels to create a balanced budget without adding to the deficit.
When comparing actual revenue against the prior year, revenue for GovGuam decreased

Income Taxes of $318.1 million represent a 1.03% increase from the previous year, up from $354.7 million in FY 2017
Gross Receipts Taxes of $269.6 million reflect a 0.1% decrease compared to the FY 2017 amount of $237.1 million

Actual expenditures were 9% less than the authorized level
Economy remains strong and continues to show steady growth
Aggressive tax collections and tax compliance, with tax refunds paid in a timely fashion
Imposition of 15% reserves on appropriations
---
Government of Guam's Pension Management
Guam is keenly focused on managing its pension obligations.
Security ratio continues to improve, up from 60.20% in FY 2017 to 63.24% in FY 2018
The unfunded actuarial accrued liability increased from $1.267 billion in FY 2017 to $1.175 billion as of FY 2018
GovGuam's contribution rate has been declining and is now 26.2%, compared to 30.1% in FY 2010
The average annual return on the market value of assets for the last 5 fiscal years has been 7.5%

GovGuam uses a 7% discount rate

P.L. 33-186, which were effective January 1, 2018

Increases the contribution rates to the existing Defined Contribution Retirement System ("DC Plan") from 5.0% to 6.2% effective January 1, 2018
Establishes a new Defined Benefit 1.75 Retirement System and provides an opportunity for current employees in the DC Plan to transfer to the DB 1.75 Plan or the Government of Guam Retirement Security  Plan effective January 1, 2018. The DB 1.75 Plan is closed to new employees on and after January 1, 2018
---
SECTION 30
Overview of the Section 30 Credit
The Government's right to receive Section 30 Revenues is granted by Section 30 of the Organic Act and GovGuam has been collecting Section 30 Revenues since 1978.
Section 30 Highlights
Revenue Source
All Section 30 Revenues as defined in 48 U.S.C.A. § 1421h
Legal Structure
Statutory lien on Section 30 Revenues
Government has irrevocably requested that all amounts owed to Guam under 48
U.S.C.A. § 1421h be remitted to the Trustee
Section 30 Revenues are set aside by the Trustee in an amount sufficient to fund interest and principal due on or before November 30 of the next succeeding fiscal year

Debt service for following fiscal year funded in full by September 30th of each year
Additional Bonds Test
2.0x the lesser of (i) most recent completed fiscal year revenues or (ii) average of the three most recent completed fiscal year revenues
Principal Payment Date
Composition of Section 30 Revenue
All Federal income taxes and customs duties derived from Guam

Predominantly paid by federal employees, both civilian and military, as Guam residents generally do not pay federal income taxes and instead pay comparable income taxes directly to GovGuam

All Federal taxes paid on articles produced in Guam
Proceeds of any other taxes which may be levied by Congress on residents of Guam
All quarantine, passport, immigration and naturalization fees
Collection
Majority of Section 30 Revenues (income tax component) is received directly from the U.S. Government just before October 1st each year
Quarantine, passport, immigration and naturalization fees are collected throughout the year
---
Section 30 Revenue
Historically, over 90% of the Section 30 revenues are paid by the federal government directly to the Trustee in the form of an estimated lump sum payment each September.
---
Base Section 30 Revenues Have Shown Strong Growth
---
Business Privilege Tax
Overview of the Business Privilege Tax (BPT)
The BPT is a comprehensive tax on goods, services and the sale of tangible property with a historical collection rate of approximately 95%.
BPT Highlights
The BPT is a broad‐based island‐wide tax that is similar to, but more expansive than, sales taxes in other jurisdictions
Historical collection rate 95%
Guam's Business Privilege Tax has continued to grow over the last 10 years as Guam's economy has expanded and diversified
Since 2006, Guam's BPT has grown more than 50%
Strong tourism and construction activity have helped contribute to the growth in BPT
The BPT continues to be one of Guam's strongest revenue sources, accounting for approximately 1/3 of the General Fund revenues
BPT is locally (not federally) controlled
Top 10 BPT taxpayers account for 17% of BPT revenues
No single BPT taxpayer accounts for more than 2.5% of BPT revenues
The Department of the Navy estimates that the Marine Build‐Up and other Department of Defense projects will increase BPT revenue by a combined total of over $100 million from 2018 through 2027 as of April 2014 Socioeconomic Impact
Assessment Study (SAIS)
---
The BPT Credit Shows Strong Fundamentals
BPT Credit Overview
Revenue Source
A 5% tax on business receipts which accounts for approximately 1/3 of General Fund revenues
3% of this 5% is pledged to the BPT Bonds
Legal Structure
First lien on pledged BPT revenues
Monthly set‐aside of 1/6 interest and 1/12 principal deposited into bond fund
Deposits are funded in advance so that 100% of debt service payments are on
deposit three months prior to debt service payment dates
Additional Bonds Test
3.0x MADS for any consecutive 12 month period during the 24 months next preceding issuance
Principal Payment Date
January 1
(Series 2011A & 2012B)
November 15
(Series 2013C & 2015D)
---
Officer In Charge of Construction - Marine Corps Marianas
DOWNLOADS

Public Law 36-54 FY2022 Government of Guam Appropriations
Guam Credit Ratings as of April 2022
Government of Guam Bond Disclosure Policy: as of July 2019
Government of Guam Long-Term Debt Abstract - April 2022
Government of Guam Business Privilege Tax Update December 2016
GPA Audit FY 2021
GWA Audit FY 2021
GIAA Audit FY 2021
TAF Audit FY 2020
GovGuam Retirement Actuarial Report: as of September 2020
GovGuam FY 2020 Audit
2020 Popular Annual Finance Report
Special Revenue Fund Tracking Report (September 2022)
Government of Guam Tourist Attraction Special Revenue Fund FY2021
LINKS
Electronic Municipal Market Access (EMMA)
Office of Public Accountability Financial Audits
Consolidated Revenue and Expenditure Report
Guam Visitors Bureau - Visitor Arrival Statistics